HDG Ringlock Scaffolding



Product Description
1.As a professional scaffolding manufacturer and exporter with 17 years' experience in China, our featured products Ringlock scaffolding enjoy a good market overseas.It has obtained many certification authority, such as ISO9001:2000, SGS, UL.

2.Our products include Ringlock scaffolding system, Japanese scafolding system, Frame scaffold series and kinds of scaffolding system.

3.More than 90% of our products are export to North America, Western Europe, and Australia.

4.If you are looking for a trustworthy partner, please contact us without any hesitate.

Introduction
The revolutionary Ringlock System's node point ( Rosette) provide up to 8 connections in one place. The 4 narrow punched out holes automatically center the ledgers in correct dimensions and at right angles. The 4 wide holes permit alignment of ledgers and diagonal braces at angles required.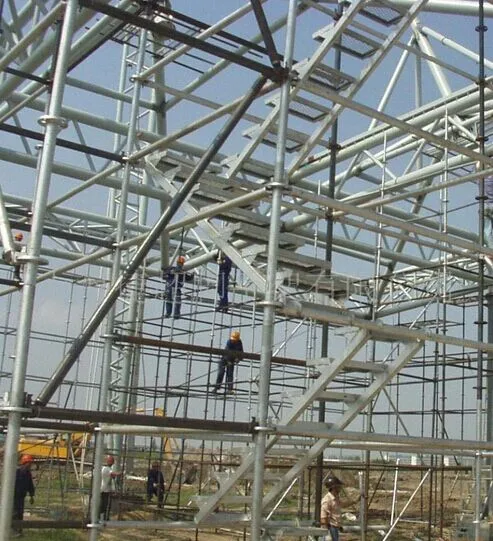 Standard
Use: Standards are the vertical members of ringlock scaffolding. They provide the
vertical support for scaffolding.
Material: High strength structural steel
Finish: Hot dipped galvanized
ledger

Use: Ledgers are the horizontal members of Ringlock scaffolding. They provide horizontal support for loads and planks. Ledgers can also be used as mid rail and top or hand guard rails
Material: High strength structural steel Q235
Finish: Hot dipped galvanized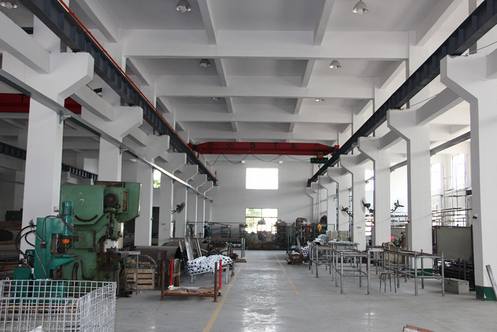 Base collar
Use: The base collar is designed to "base out" the Ringlock scaffolding system sitting on top of the screw jack creating a lower node point.
Material: High strength structural steel Q235
Finish: Hot dipped galvanized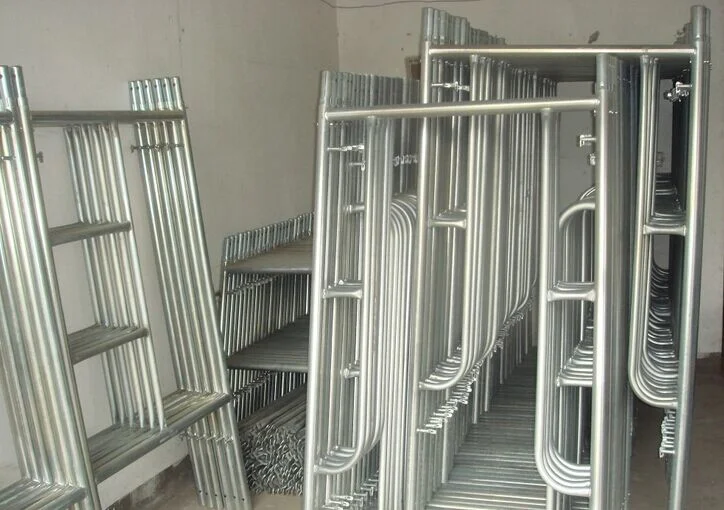 Features:
1) Quick erection: Ringlock scaffolding are all pre-measured and just a hammer is required when erection.
2) Safety: The reliable wedge connections prevent ledgers and diagonal braces from any kind of loosening.
3)Versatility: The revolutionary node point- rosette provides up to 8 connections in one plane, allowing the system scaffold highly adaptable for straight as well as curved structures, such as ship yards, power generation stations, petrochemical plants.
4) Low maintenance: The dip galvanized finishing will greatly last the life of the products, no paint required, antirust and anticorrosion.
5) Convenient in storage and transportation: Individual scaffolding parts can be packed in bundles for easy storage and transportation.
We can provide scaffolding system according to customer's requirements.
| | | | | |
| --- | --- | --- | --- | --- |
| DESCRIPTION | MATERIAL | QTY. (PCS) | W. T. (KG/PC) | SURFACE |
| 3.00m standard | Q345 48.3*3.2mm | 1.00 | 15.3 | Hot-dipped Galvanized |
| 2.50m standard | Q345 48.3*3.2mm | 1.00 | 12.9 | Hot-dipped Galvanized |
| 2.00m standard | Q345 48.3*3.2mm | 1.00 | 10.5 | Hot-dipped Galvanized |
| 1.50m standard | Q345 48.3*3.2mm | 1.00 | 8.1 | Hot-dipped Galvanized |
| 1.00m standard | Q345 48.3*3.2mm | 1.00 | 5.7 | Hot-dipped Galvanized |
| 0.50m standard | Q345 48.3*3.2mm | 1.00 | 3.3 | Hot-dipped Galvanized |
| 2.00m ledger | Q345 48.3*2.5mm | 1.00 | 6.8 | Hot-dipped Galvanized |
| 1.80m ledger | Q345 48.3*2.5mm | 1.00 | 6.2 | Hot-dipped Galvanized |
| 1.50m ledger | Q345 48.3*2.5mm | 1.00 | 5.3 | Hot-dipped Galvanized |
| 1.20m ledger | Q345 48.3*2.5mm | 1.00 | 4.4 | Hot-dipped Galvanized |
| 0.90m ledger | Q345 48.3*2.5mm | 1.00 | 3.5 | Hot-dipped Galvanized |
| 0.60m ledger | Q345 48.3*2.5mm | 1.00 | 2.6 | Hot-dipped Galvanized |
| 2.00*2.00m brace | Q235 33.5*2.3mm | 1.00 | 7 | Hot-dipped Galvanized |
| 1.80*2.00m brace | Q235 33.5*2.3mm | 1.00 | 6.7 | Hot-dipped Galvanized |
| 1.50*2.00m brace | Q235 33.5*2.3mm | 1.00 | 6.4 | Hot-dipped Galvanized |
| 1.20*2.00m brace | Q235 33.5*2.3mm | 1.00 | 6.1 | Hot-dipped Galvanized |
| 2.00*1.50m brace | Q235 33.5*2.3mm | 1.00 | 6.3 | Hot-dipped Galvanized |
| 1.80*1.50m brace | Q235 33.5*2.3mm | 1.00 | 6 | Hot-dipped Galvanized |
| 1.50*1.50m brace | Q235 33.5*2.3mm | 1.00 | 5.6 | Hot-dipped Galvanized |
| 1.20*1.50m brace | Q235 33.5*2.3mm | 1.00 | 5.2 | Hot-dipped Galvanized |
| 0.90*1.50m brace | Q235 33.5*2.3mm | 1.00 | 4.9 | Hot-dipped Galvanized |
| 0.60*1.50m brace | Q235 33.5*2.3mm | 1.00 | 4.7 | Hot-dipped Galvanized |
| 2.00*1.00m brace | Q235 33.5*2.3mm | 1.00 | 5.8 | Hot-dipped Galvanized |
| 1.80*1.00m brace | Q235 33.5*2.3mm | 1.00 | 5.4 | Hot-dipped Galvanized |
| 1.50*1.00m brace | Q235 33.5*2.3mm | 1.00 | 4.9 | Hot-dipped Galvanized |
| 1.20*1.00m brace | Q235 33.5*2.3mm | 1.00 | 4.5 | Hot-dipped Galvanized |
| 0.90*1.00m brace | Q235 33.5*2.3mm | 1.00 | 4.1 | Hot-dipped Galvanized |
| 0.60*1.00m brace | Q235 33.5*2.3mm | 1.00 | 3.8 | Hot-dipped Galvanized |
| 2.00*2.00m brace | Q345 48.3*2.5mm | 1.00 | 10.2 | Hot-dipped Galvanized |
| 1.80*2.00m brace | Q345 48.3*2.5mm | 1.00 | 9.8 | Hot-dipped Galvanized |
| 1.50*2.00m brace | Q345 48.3*2.5mm | 1.00 | 9.2 | Hot-dipped Galvanized |
| 1.20*2.00m brace | Q345 48.3*2.5mm | 1.00 | 8.8 | Hot-dipped Galvanized |
| 2.00*1.50m brace | Q345 48.3*2.5mm | 1.00 | 9.1 | Hot-dipped Galvanized |
| 1.80*1.50m brace | Q345 48.3*2.5mm | 1.00 | 8.7 | Hot-dipped Galvanized |
| 1.50*1.50m brace | Q345 48.3*2.5mm | 1.00 | 8 | Hot-dipped Galvanized |
| 1.20*1.50m brace | Q345 48.3*2.5mm | 1.00 | 7.4 | Hot-dipped Galvanized |
| 0.90*1.50m brace | Q345 48.3*2.5mm | 1.00 | 7 | Hot-dipped Galvanized |
| 0.60*1.50m brace | Q345 48.3*2.5mm | 1.00 | 6.6 | Hot-dipped Galvanized |
| 2.00*1.00m brace | Q345 48.3*2.5mm | 1.00 | 8.3 | Hot-dipped Galvanized |
| 1.80*1.00m brace | Q345 48.3*2.5mm | 1.00 | 7.7 | Hot-dipped Galvanized |
| 1.50*1.00m brace | Q345 48.3*2.5mm | 1.00 | 7 | Hot-dipped Galvanized |
| 1.20*1.00m brace | Q345 48.3*2.5mm | 1.00 | 6.2 | Hot-dipped Galvanized |
| 0.9*1m brace | Q345 48.3*2.5mm | 1.00 | 5.6 | Hot-dipped Galvanized |
| 0.6*1m brace | Q345 48.3*2.5mm | 1.00 | 5.2 | Hot-dipped Galvanized |
| 0.88m board bracket | Q345 48.3*2.5mm | 1.00 | 9.5 | Hot-dipped Galvanized |
| 0.60m base collar down | Q235 38.1*4.5mm | 1.00 | 4.4 | Hot-dipped Galvanized |
| 0.60m base collar up | Q235 38.1*4.5mm | 1.00 | 5.2 | Hot-dipped Galvanized |
| 0.24*2.00m Plank | DX51D-Z80 | 1.00 | 8.2 | Hot-dipped Galvanized |
| 0.24*1.80m Plank | DX51D-Z80 | 1.00 | 7.5 | Hot-dipped Galvanized |
| 0.24*1.50m Plank | DX51D-Z80 | 1.00 | 6.5 | Hot-dipped Galvanized |
| 0.24*1.20m Plank | DX51D-Z80 | 1.00 | 5.5 | Hot-dipped Galvanized |
| 0.24*0.90m Plank | DX51D-Z80 | 1.00 | 4.5 | Hot-dipped Galvanized |
| 0.50*2.00m Plank | DX51D-Z80 | 1.00 | 15.3 | Hot-dipped Galvanized |
| 0.50*1.80m Plank | DX51D-Z80 | 1.00 | 14 | Hot-dipped Galvanized |
| 0.50*1.50m Plank | DX51D-Z80 | 1.00 | 11.9 | Hot-dipped Galvanized |
| 0.50*1.20m Plank | DX51D-Z80 | 1.00 | 9.9 | Hot-dipped Galvanized |
| 0.50*0.90m Plank | DX51D-Z80 | 1.00 | 7.9 | Hot-dipped Galvanized |
Contact information:
Sophie
Qingdao Wefsun Metal Material Co., Ltd
Factory: North Industrial Park, Jimo District,Qingdao China
Tel:+86-532-68617887 Fax:+86-532-68617889
Mobile: 0086-18300282579
Website: wefsun.en.made-in-china.com