Company Introduction
Our company "QINGDAO SCAFFOLDING CO.,LTD." is one of the biggest manufacturers in whole China
for scaffolding products and formwork items. We export large quantity to Europe, Australia, New Zealand, U.S.A., Canada, South America and African countries. More than 20 years experience of manufacturing and exporting on scaffolding has won our customers approval and satisfaction.
Please be advised the main products which we are producing:
7)FORMWORK AND FORMWORK ACCESSORIES;
9)STEEL FORMWORK
Products Introduction
1)The QSRound Universal Scaffolding System(Ringlock Scaffolding) is constructed by prefabricated steel components:Standards,ledgers,U-transoms and diagonal braces that can be connected horizontally and vertically.It is very easy for workers to set up and quite safe.

2) The material of the products is Q345 and Q235.The surface treatment is hot dipped galvanised.Our company is the ONLY COMPANY in China has gotten the quality certificate for Ringlock scaffolding system in Europe.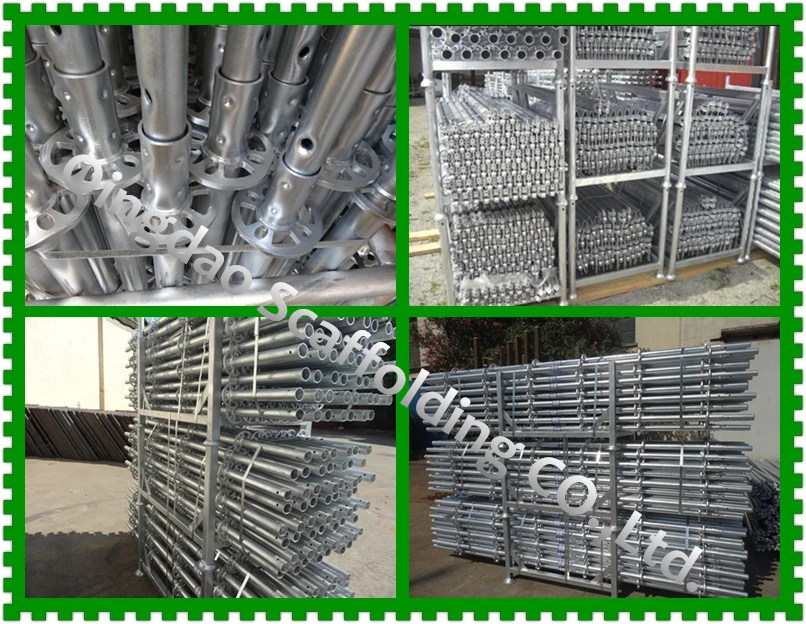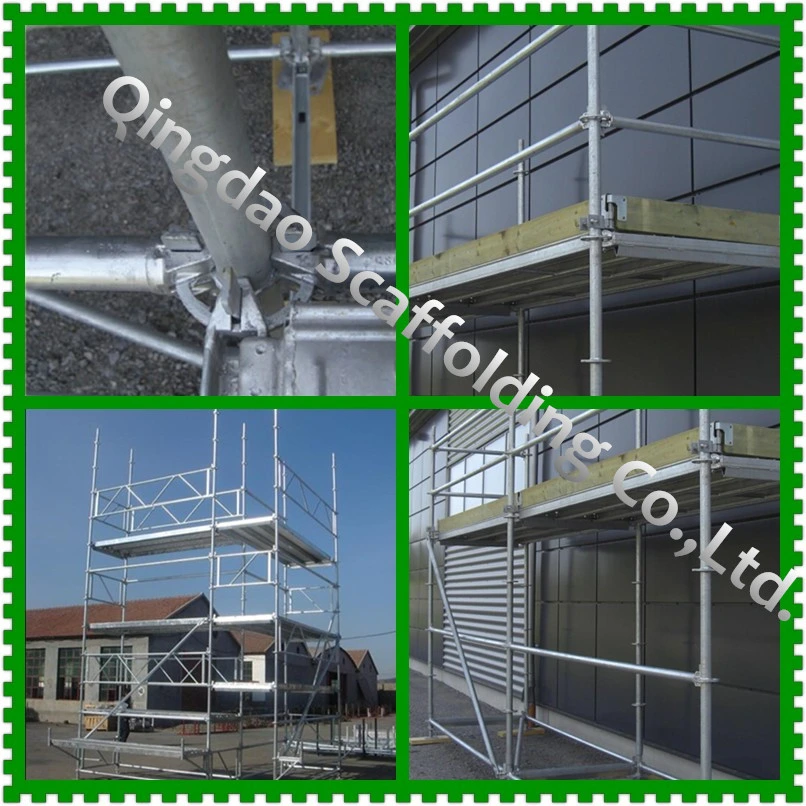 | | |
| --- | --- |
| Item Description | Unit Weight |
| Standard 4.0/3.0/2.0/1.5/1.0/0.5M,H.D.G,48.3*3.2mm | 19.78 /15.01 /10.35 /7.94 /5.53 /3.12kg |
| Ledger 0.73/1.09/1.40/1.57/2.07/2.57/3.07M,H.D.G,48.3*3.2mm | 3.44 /4.8 /6.0 /6.67 /8.59 /10.52 /12.44kg |
| U-Transom 0.73/1.09/1.4M,H.D.G | 3.51 /6.7 /8.67kg |
| Brace 2.0 x 3.07 /2.57/2.07/1.57/1.4/1.09/0.73M,H.D.G | 12.98 /11.73 /10.57 /9.55 /9.23 /8.73 /8.28kg |
| Stage Bracket 0.73/0.39M,H.D.G | 7.3 /4.2kg |
| Steel Deck 3.07 /2.57 /2.07 /1.57 /1.4 /1.09 /0.73 *0.32M | 20.1/ 17.2/ 13.5/ 10.6/ 9.6/ 7.7/ 5.5kg |
| Alu-Stair 2.0X2.57 /3.07M | 24.5/ 28.6kg |
If you have any inquiry about Ringlock scaffolding ,please feel free to contact me.

QINGDAO SCAFFOLDING CO.,LTD.
B.RGDS/Cherry Wei
TEL: +86-532-8668 1355
FAX: +86-532-8579 8559